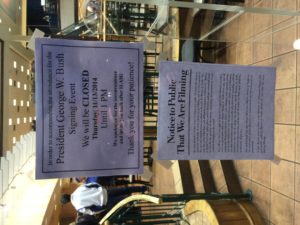 I'm kind of kicking myself this morning. I'm in Dallas visiting family. The other day I noticed President Bush would be signing books at Barnes & Noble. I was there early, but didn't get a ticket because I was in the wrong place when they handed them out.
I'm not too bummed, but I am a little. I got to see him interviewed at my church a few years ago and got an autographed book then, but didn't get to meet him.
To salvage the situation, I thought I'd compare that to my youth ministry. I care more about my students than I do about getting an autographed book from the president. However, I'm sure there are many opportunities I miss because I'm in the wrong place when the good stuff is happening. The good stuff can even bad stuff, but it's made better by sharing the experience.
Since I'm on vacation, some of my students taught the Bible study last night in my high school small group. I'm actually more bummed I missed that than meeting the president.
Taking these losses as an opportunity to evaluate my level of involvement with my students will help me hopefully be a better youth worker, but also, because of what I gain by the way I respond to those losses remove the sting a little and give me good illustrations for when I train youth workers and teach students.
After all, all things work for the good of those who love God and are called according to his purposes, right?